System requirements
To update your navigation maps and services, you need the following:
A PC equipped with:

Microsoft Windows operating system (Windows XP, Windows 7, Windows 8)
Internet connection

A blank FAT32 formatted USB memory stick with a capacity of at least 8GB

Preparing the USB memory stick for the update
Before downloading content to your USB memory stick from https://www.naviextras.com/shop/portal, you need to prepare the USB device for the update. To do this, follow the steps below:
From the Navigation menu, go to Settings and tap Synctool.



The system asks you to confirm that you want to prepare the storage media for an update.



Connect the blank USB memory stick to your Navigation device after making sure that no other USB device has been connected. A status screen is displayed showing the progress.
WARNING: DO NOT REMOVE THE STORAGE MEDIA AND DO NOT SWITCH OFF YOUR NAVIGATION SYSTEM DURING THE PROCESS.




Wait until Pioneer Navigation prompts you to remove the storage media. Now you can disconnect the USB memory stick from your Pioneer System and take it home.


Downloading and installing Naviextras Toolbox
Now you need to install the Free Naviextras Toolbox software to your PC. To install this program, follow the steps below:
Download Naviextras Toolbox from https://www.naviextras.com/shop/portal/downloads.
Double-click the file to start the installation.
Select the required language.





During the setup process, follow the instructions on the screen and click Next.



Once the installation is complete, click Finish.


If you checked the I would like to start Naviextras Toolbox now. option, Naviextras Toolbox starts automatically after the installation.
Connecting your USB memory stick to the computer
When you open the Naviextras Toolbox software on your PC with no navigation device connected, it prompts you to connect your device. Connect the USB memory stick to your PC.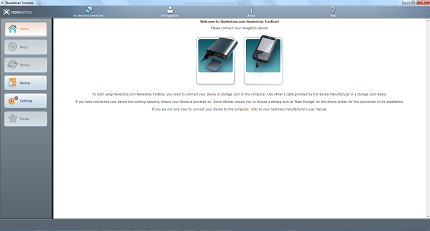 The system asks you whether you allow the collection of anonymous GPS logs. If you do not wish to see this notification again, check Do not display this in the future.
Next, the system prompts you to create a backup of your current data.
Naviextras Toolbox requires you to log in to your Naviextras account to purchase new content or update your existing maps. Enter your credentials. If you do not have a Naviextras account yet, click Create a User Profile and provide the required data.



After logging in to your Naviextras account, your home screen appears. You can reach your profile and transaction history from here and immediately look at available content and best offers for your Pioneer System.